What is Autocross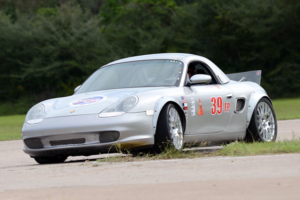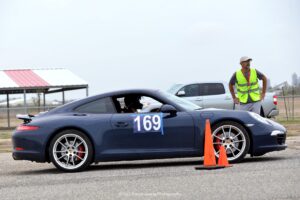 Autocross (or AX) is an entry level competitive driving event around a course defined by traffic cones. Each "lap" is individually timed for each driver. There is no "wheel-to-wheel" competition with courses designed to be negotiated entirely in 2nd gear for most vehicles. A typical course is 45 to 60 seconds long.
Autocross gives you the opportunity to develop your car control skills at the limit in a relatively safe environment.                                   
PCA National Autocross rules allow for any licensed driver age 16 or older to participate in Autocrossing.
Beginner PCA members are always welcome and there are no prerequisites other than arriving with a vehicle in safe working condition. We require any non-member entrants to be experienced which allows our instructors to focus on PCA member beginners.
Up to two drivers can share a single vehicle allowing for multiple family members to participate.
Autocross Classes
For the 2022 season, LSR-PCA is adopting the regional version of the Porsche Parade Autocross classing rules. We hope this change will encourage members to take advantage of the opportunity to autocross when attending the club's annual Parade event.
There are 5 classes for Showroom Stock Porsches "as delivered" by your Porsche dealer, 5 classes for lightly modified "Production" Porsches, two classes for heavily modified street driven  "Improved" Porsches with full interiors, and one class for race prepared "Modified" Porsches.
Everything you want to know about the classing rules can be found by clicking on the 2022 Classes Document link to the right. Find your class on page 2.
Click the "Where do I start" link on the right to get started!
Upcoming Autocross Events