What is Autocross?
Autocross (or AX) is an entry level competitive driving event around a course defined by traffic cones. Each "lap" is individually timed for each driver. There is no "wheel-to-wheel" competition with courses designed to be negotiated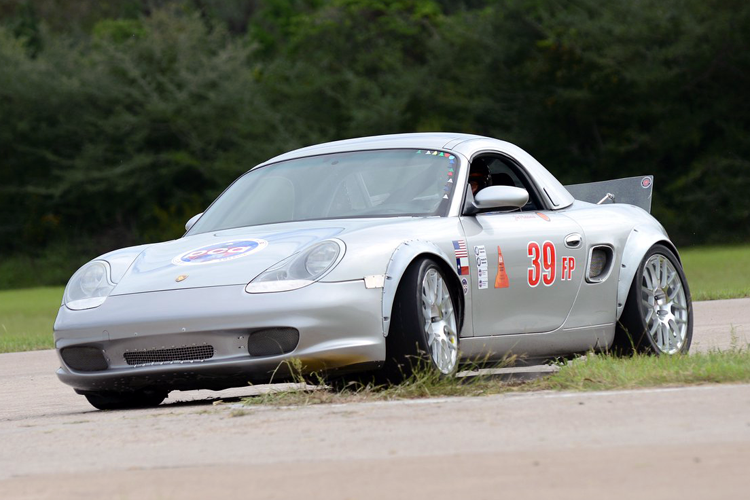 entirely in 2nd gear for most vehicles. A typical course is 45 to 60 seconds long.
Autocross gives you the opportunity to develop your car control skills in a relatively safe environment.
PCA National Autocross rules allow for any licensed driver age 16 or older to participate in Autocrossing.
Beginner PCA members are always welcome, and there are no prerequisites other than arriving with a vehicle in safe working condition. We require non-member entrants to be experienced to allow instructors to focus on PCA member beginners.
Up to two drivers can share a single vehicle allowing for multiple family members to participate.
Autocross Classes
Porsche Club of America has redefined their various Autocross classifications for the 2020 season.
Porsche Classes
PCL – Pre-'75 & other sub 160 hp Porsches, 924's, 200 TW Tires
9AC – All 76-98 Air Cooled 911 models except turbo, 200 TW Tires
9AT – ALL 911 Turbo, 911 GTS, 99+ AWD, 2016+ Carrera S/GTS, 944T, 200 TW Tires
9WC – 99+ 911 Carrera models except Turbo, AWD, 2016+ Carrera S/GTS, 200 TW Tires
1BC – 97-08 Boxster/Cayman, 09-11 Boxster/Cayman Base Models, 944's, 200 TW Tires
2BC – 09-11 Boxster/Cayman S/GTS, All 2012+ Boxster/Cayman, 968's, 200 TW Tires
PSV – ALL PORSCHE SUV, Panamera Models, 928's, 200 TW Tires
GTR – Special GT, R, or "Tuner" Porsches, heavily modified Porsches, 100 TW Tires
PRT – RACE PREPARED PORSCHES, SUB-100 TW Tires
Non-Porsche Classes
X1 – SIGNIFICANTLY MODIFIED NON PORSCHES, sub 200 TW Tires
X2 – ALL WHEEL DRIVE NON PORSCHE, 200 TW Tires
X3 – REAR WHEEL DRIVE 8cyl+ NON PORSCHE, 200 TW Tires
X4 – REAR WHEEL DRIVE 3-6cyl NON PORSCHE, 200 TW Tires
X5 – FRONT WHEEL DRIVE AND SUB 100HP CARS, 200 TW Tires
Other Classes
L – Ladies Class (Optional)
IN – Autocross Event Instructors
Upcoming Autocross Events
Autocross #5

May 23, 2021


Event: Autocross #5
May 23, 2021 at 8:00 AM – 5:00 PM
Autocross #6

June 20, 2021
Grandsport Speedway, First Street &, Avenue G, Hitchcock, TX 77563, USA