What could be better than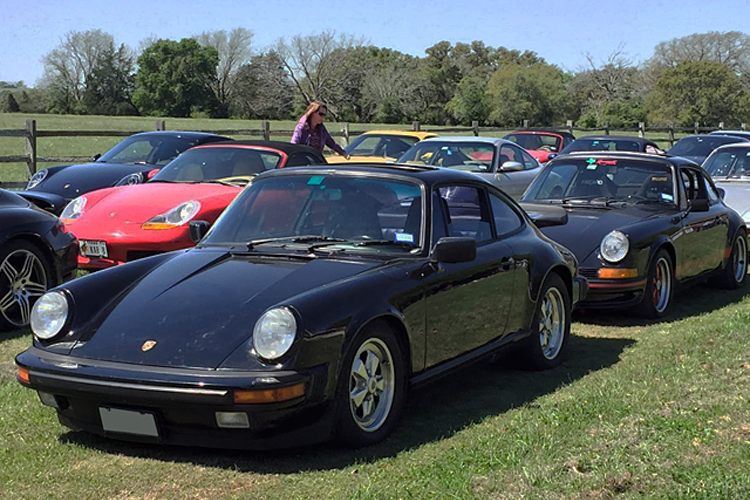 weekend touring through the countryside with friends?
Lone Star Region PCA periodically conducts driving tours (or joins with other local clubs for their tours). Touring is intended for those wishing to take a break (and give their brakes and tires a break!) from the high-level hormone track events. The objective of touring is to get Porsche people together for a fun day (or a fun weekend) with their cars and maybe learn something about the area countryside at the same time.
Touring involves all cars assembling at a start point and then driving in "convoy" through a predetermined scenic route. The trip usually pauses or ends at a restaurant or other point of interest along the route. Many of our tours are structured as charity events with a nominal voluntary contribution solicited from participants.
If you would like to organize a tour or have a suggested destination, please contact our Chairperson, Edwin Goldman. PCA has some documents that pertain to planning, conducting, and post-event reporting for touring activities. This same level of documentation is generally required for all PCA events that regions conduct. Tours are more likely to be organized and conducted on an informal basis so persons leading tours need to be aware of this information.
| | | | |
| --- | --- | --- | --- |
| North Houston – Sam Houston National Forest | | Morning dive on North side back roads through Sam Houston Forest ending at Lake Conroe for lunch. | |
| | | All day back roads tour through Hill Country to view Bluebonnets, Rennsport in Sealy and Painted churches. Includes lunch in Flatonia | |
| | | All day back roads tour through Hill Country to view Bluebonnets, Rennsport in Sealy and Painted churches. Includes lunch in Flatonia | |
| Piney Woods of East Texas & Jefferson Tx | | Overnight tour. Backroads driving to East Texas through Piney Woods ending in Jefferson. Also known as the prettiest city in Texas. Stay in Jefferson at Excelsior Hotel. The oldest hotel in continuous operation in Texas since 1858. Today, Jefferson is known as the town that would not die. Although it did not become a large trading center, the town serves as one of the main tourist areas of Texas. Many of the antebellum homes are open for visits. In the mid 1800's Jefferson was the shipping port to the Mississippi. … The Historic Jefferson Railway captures the spirit of the Civil War during the battle of Port Jefferson reenactment. | Sunoco Gas Station off Hwy 59N |
| 4th July Parade Round Top | | Morning back road ride to Round Top to watch the 4th of July Parade. Started in 1851 the Round Top celebration is the oldest Fourth of July observance west of the Mississippi. BBQ lunch provided afterwards by the Round Top Rifle Association. | |
| San Antonio Mission Tours | | Overnight tour. Backroads ride to the San Antonio missions stopping to see the only Spanish Fort in the U.S. outside of Florida and spending the night in the St. Anthony Hotel in San Antonio | |
| | | Overnight tour. Back roads drive to Kiepersol Winery in Tyler. Tour of Winery including wine tasting and dinner. Accommodations available on site. Kiepersol is a winery south of Tyler, Texas producing 100% estate grown wines. … the Winery sits atop the Bullard Salt Dome, a geologic masterpiece from the Jurassic era. The weather-changing effect that this Salt Dome has on Kiepersol is a blessing of nature – the severity of storms is softened as the natural electrical charge of the land pushes storm pathways to the North and South. | |
| Marathon, Marfa and Big Bend Tour | | Back roads drive to Marathon, Big Bend State Park, Marfa, Fort Davis and McDonald Observatory. Targeting overnights at Gage Hotel in Marathon, Lajitas Resort in Big Bend and Paisano hotel in Marfa or Limpia Hotel in Fort Davis. | |
Nothing from January 24, 2022 to January 24, 2023.