High Performance Driver's Education

What is HPDE?
High Performance Drivers Education (HPDE) or more commonly known as Drivers Education (DE) events, are opportunities for you to drive your car in a safe, controlled environment in a track setting. These are NOT racing events.
Lone Star Region PCA DE's are instructed by a group of nationally certified, experienced, and dedicated instructors (Coaches) who are instrumental in assuring all participants and their vehicles stay safe while developing highly tuned drivers. We have one of the most sophisticated and complete DE programs in the country and are passionate about developing every driver to the highest level they desire. more…
My First LSRPCA HPDE
 by: Jennifer Cranford 
January 19-20 2019
I finally experienced my first Lone Star Region PCA DE and the first time using my own car at a track event. The later brought the anxiety with all that could go wrong with/to my car given the amount of drivers on the track in a session. more…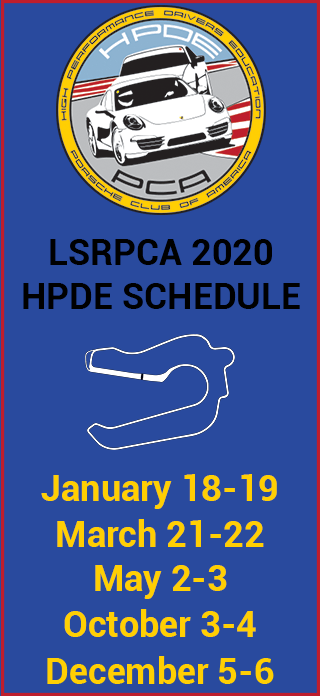 Upcoming LSR PCA HPDE Events
HPDE

December 7, 2019 8:00 am - December 8, 2019 5:00 pm
MSR Houston, 1 Performance Drive, Angleton, TX 77515, USA
HPDE COTA -Advanced Solo HPDE and "Carrera of the Americas" PCA Club Race

February 28, 2020 - March 1, 2020
9201 Circuit of the Americas Blvd, Austin, TX 78617

Advanced Solo HPDE and "Carrera of the Americas" PCA Club Race.

As the name implies, this is not an instructed event because so many of our instructors are club racers. So, it's open to solo-only drivers.
We'll have two run groups of HPDE and two Club Race run groups.
Registration open TBD – about six weeks in advance – it'll be the same date that PCA Club Racing sets as the registration opening date for the Club Race.